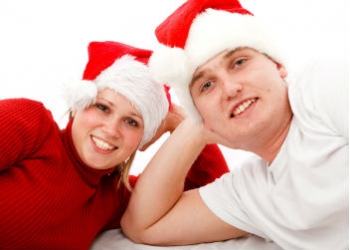 The holiday season is a great time to spend time exploring new and sexciting adventures with your partner. There is a general sense of good feeling in the air and it is bound to rub off on the two of you at home—and will hopefully lead to the two of you rubbing each other. Whether you're in a long-term partnership or newly connected, there is no better time to offer up something new to your partner. And sexytime gifts are the way to go!
For many folks, giving gifts is a romantic or friendly gesture. We think of items the person needs or extravagant things they desire. But we often don't think about sharing sexy gifts. Why not? This holiday season, put a little sexy in her stocking to give him an extra jingle in his balls. Here are some of the best sexy gifts for couples:
Massage products
There are few better ways to start a truly connected evening of sex than a mutual massage. Get your hands nice and slick with your favourite oil or cream and work all of the day's tensions out of each others bodies. Work together or take turns. Your body will be ultra relaxed, your skin will tingle and, after all of that close connect, other parts will surely react in the most eager of ways.
Pleasure for her
Sex products for women have come a long way! They are now sophisticated and very good. No need for cheap products that run through batteries. The top vibrators, including the Satisfyer Pro 2, are rechargeable and always ready for her pleasure. With a more focused use (direct clitoral stimulation), they are also a great product for others to use on women.
Pleasure for him
Men's sex toys are finally starting to catch up to women's. There are now many different kinds of strokers—manual and automatic—to give your fella the ride of his life. Of course, you can never go wrong with an iconic cyberskin stroker. You'll find every texture and style to please him.
Products for couples
Whatever your partnership looks like, there are sex toys that will enhance your sexytimes. Vibrating cock rings can be added to any to penis, be that flesh or a dildo, to bring some extra buzz to your fun. Speaking of dildos, more and more folks are discovering just how much they enjoy some anal action. Explore the many different shapes and sizes to find the one that fits just right.
BDSM
Exploring the world of BDSM is a very powerful way to enhance your sexual connection. These activities involve establishing and maintaining trust. Whether you're exploring the limits of pain with whips and paddles or seeing what it feels like to be bound with cuffs or rope,, BDSM has much to offer the adventurous couples out there.
And don't forget…
Some folks take lube for granted. But keeping some on the night stand will ensure there is never disappointment if the natural juices aren't flowing. Lube is also essential when it comes to anal or playing with certain toys. It also makes a perfect stocking stuffer!