The porn boom of the 1980 and 1990s gave rise to many different sexual fantasies and interests. We could see all kinds of sex, right there, all kinds of sex beyond our wildest imagination. New things to try and experience!
One of the most popular types of sex since then is anal. People have gone wild for ass sex! It has since become one of the most frequent acts performed in pornography with most films and clips featuring some amount of anal sex. And as more people enjoy watching bum fun, so too have people been exploring the pleasures of the ass.
Anal touch is a delicate but delightful pleasure. Yes, it might hurt if you do it too quickly or wrong, but the joy to be found out back can be wonderful. As you start to explore your or your partner's anus, it is best to start with fingers and even tongue to really understand it. But, as you learn more and more, you might crave something sexy inside.
Time for a butt plug!
Butt plugs differ from dildos in that they are specifically meant for anal insertion and retention. You can put them in and they won't come out! If you've tried putting a dildo or vibrator in your or someone else's ass, you've seen how the body's natural function forces that toy to pop out. Whereas a butt plug is specifically shaped to slip easily into an ass and stay there. You can just let it be and spend time on other activities.
The basics of butt plugs are that they are smooth and contoured at the tip and slowly become wider down the shaft. Once they reach their intended girth, they then taper off, more sharply, until you reach a flat, wide base. Imagine a spade in a deck of cards - that is the general shape of a butt plug. While the length and girth can vary greatly, it is always key that your butt plug have a wide base. You don't want an errant toy lost in your bowels and a trip to the hospital!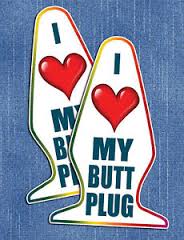 How big a butt plug you should try is entirely up to you. The anus is very stretchy and accommodating, but everybody is different. Butt plugs can come in sizes that vary from slightly wider than your pinkie finger to slightly wider than your arm (seriously, there are some monsters out there!). Deciding how big you want it is entirely up to you. You might even find that you'll want more than one size on hand, depending on your mood.
While it may seem a butt plug is there just to be slipped in, know that there is much more to these great, unisexual sex toys. Everybody's got an ass, so everyone can use them. And because they can be hands-free, they can be enjoyed while other parts of your body are stimulated. As you become more aroused and closer to orgasm, your ass will, involuntarily, clench and squeeze. Doing so around the butt plug will put delightful pleasure on your anal muscles and particularly your anus. Having an orgasm with a butt plug in is mind-blowing!
Butt plugs are a simple, easy to use, versatile toy that fit nicely (haha!) into many different sexual situations. Get a grip on one today! You can view our full range of butt plugs here.