Guide to Crops & Canes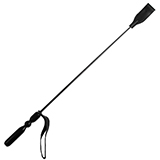 One of the great appeals of BDSM is the potential it has to challenge yourself and your partner. There are physical potentials and psychological potentials - and sometimes these go hand-in-hand. As you move through your BDSM journey, you may or may not want to continually test yourself. You may reach a level of activity, be that pain or another sensation, that meets your needs and desires.
The thing is, everybody has different needs and desires. Some people will enjoy a spank while other folks wish they could feel the force of 10 simultaneous spanks. For those who crave a higher high, a more extreme interaction, a deeper intensity, there are special toys. People who want to take themselves to the limit should try crops and canes.
What are crops and canes?
Crops and canes are the big daddies of the impact toy world. They are the top of the heap in intensity. When you really want to feel pain or inflict it on a willing partner, these handheld wonders of varying lengths are the toys for you. Crops and canes are so powerful because they focus their impact in small areas on the skin. Paddles, floggers and whips distribute their forces over a larger area. But crops and canes hit a smaller spot, the damage is intensified and for those who crave it, glorious.
Do I need to have experience to use crops and canes?
Crops and canes are definitely for advanced impact players. They are lightweight and have a snapping action to them, which also contributes to the force they can strike with. That snapping action can be somewhat more challenging to master than simpler toys. And that snapping action can do considerable damage to the skin. It is not unusual for large welts to rise from just one hit. If enough force is exerted, or the same spot is impacted repeatedly, it is very possible that you could break the skin. Because crops and canes can be used to such an extreme, it is important that players are respectful and use BDSM safety techniques.
Can crops and canes leave marks?
Some folks really get off on the marks left by BDSM play. Whether these are scratch marks, bruises or even cuts, these marks of sexy fun can be considered a badge of honour and even worshipped. If this turns you on, then crops and canes are a must have in your pleasure chest. Just one strike with these toys can leave a delicious blotch of red, a bruise or even a swatch of crimson. Of course, it is important to not take this desire for marks too far and risk permanent damage. You should also be careful to only connect or give marks to easily hidden body parts. There are lots of people who don't understand BDSM, and while their ignorance is not your fault, that same ignorance can cause you endless issues.
What are crops and canes made of?
Crops are traditionally made of leather that is light, but tough. Canes, on the other hand, are frequently made from bamboo, another light material. The lightness of these toys makes them very easy to manoeuver and swing.
How can I use crops and canes?
The key word to consider when using crops and canes is "carefully." We've already spoken about how light they are and how that makes them a simple swing to sensation. They are also very easy to use because they can exert tremendous force without a lot of motion. An experienced player can snap a crop with just a flick of the wrist and cause yelps of pain. Canes are somewhat similar. You may have to make a bigger effort in swinging a cane, but it does not take a lot of effort on the top's part to get the desired results. Canes also make a deliciously painful crack when they land across skin.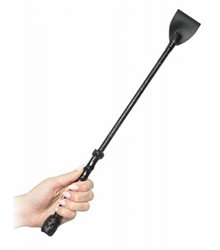 Because there is such potential with crops and canes, it is important that anyone using one practices with them first. First, try them on a pillow. Practice flicking and swinging. This is all about getting comfortable with the physical motion of using these tools. When you start to feel good and sexy with them, you need to try them on a person - and that person should be you! If possible, hold your hand out and bring the toy down on your own flesh. Try doing it at different strengths. Hopefully you'll retain this muscle memory as you move to the next step: playing with a bottom.
The best places on the body to use crops and canes is the buttocks, the back and the front and back of the thighs. These areas can absorb impact as they traditionally have some extra padding. You may need to take care when using the back, such as ensuring you aim for the muscled areas. Always begin slow and easy. In fact, your first session might only include one strike. Talk amongst yourself beforehand to determine the plan, and if it needs to change during the session, be sure to be flexible. Either over the session or over time, you will be able to increase the number of strikes.
How can I buy crops and canes?
Is the thought of spanking someone or being spanked with a crop or cane turning you on? We thought it might be. If you would like to buy your own, just head on over to our crops and canes category: Buy Crops & Canes.
Need more help?
Not quite sure if crops and canes are right for you and need a little help? Just Contact Customer Care and a staff member from the Cherry Banana team will be in touch right away to assist you. Alternatively, you can explore our other bondage and fetish guides here.
You may also like these guides