Guide to Metal Vibrators
A sleek sports car glides down the street and everybody turns their head to watch. A tall new building rises, glimmering in the morning sun. A single stranded necklace settles on the top of her cleavage. Metal has long held a fascination for people, its shimmering surface and smooth texture alluring in visual and tactile appeal. Polish and precision give metals a sensual satisfaction.
It should come as no surprise then that metal vibrators hold an undeniable allure. Because of their unique surface, metal vibrators are in demand by people who want a different sensation. Whether used internally or externally, these fascinating sex toys will change the way you use the word "hard" when you're talking about sexual pleasure.
What is a metal vibrator?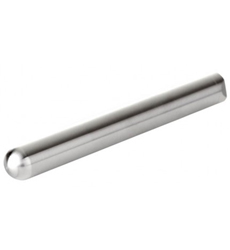 A metal vibrator is a vibrating sex toy made from, you guessed it, metal. With the two most common types being aluminium or steel, metal vibes offer a completely different, smooth sensation that you won't find in other vibrators.
Versatile and strong, metal vibrators come in a variety of textures, shapes and sizes for your differing pleasure needs. They are built to be the rugged, rigid toy in your collection that is always dependable and always ready. If you want the true experience of a metal vibe, shop for true steel and not steel coated plastic (hint: we sell them). Actual metal vibrators can be made of steel, aluminium or if you're getting fancy, plated in silver or gold on top of that. Not only are these sex toys able to handle the rigors of passionate sex, but they can handle being dropped or rolling off the bed.
Because metal is such a hard material, it is nothing like you have ever experienced before. There is something so elegant and sensual about a beautifully crafted metal vibe. Not only do they look great, the vibrations will be felt much stronger than other types of softer vibes such as silicone or rubber.
What size metal vibrator is right for me?
Being made of metal, these vibes are something awesome and something to get used to at the same time. Many other sex toys are pliable or have some give to them. Metal vibrators are that hard sensation you've been craving. So, when considering a metal vibe, it is best to start off small - particularly if you're interested in penetration. If you use them roughly on your or your partner's tender bits, there is the potential to cause some pain and discomfort. Consider your other vibrators and dildos and look for a metal vibrator that is a little smaller than those. Remember, once you get used to the sensation, you can always move up with new toys of bigger sizes.
What will a metal vibrator feel like?
A metal vibrator has the potential to feel absolutely amazing when used correctly, no matter if you're a man or a woman. When it comes to external sensation, many people tend to hold vibrators close to the vulva or clitoris for greater sensitivity. The great thing about metal vibrators is that you don't necessarily have to do that! Metal transmits vibration brilliantly, helping your motor rev hot and heavy with little need to mash the toy against your or your partner's body. This means you can loosely explore your or your partner's body, sliding over them in a slow and sensual manner. The strong vibrations will be enough to tip them over the edge, especially if you focus on some of their tender spots.
If you're into penetration with your metal vibe, you can use it for some rough and tumble fun that you can't achieve with softer toys. Of course, work it to your or your partner's preference and tolerance. Whether this be to pleasure the vagina or anus, a metal vibe is guaranteed to bring enjoyment that's out of this world.
How do I use a metal vibrator?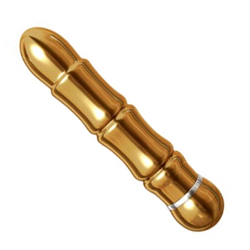 Much like other vibrators, metal vibes are best used for clitoral stimulation. The great thing about them is that they are compatible with all kinds of lubes, whichever is your preference. You or your partner can be wet and ready or add some additional slickness to feel the hard, smooth vibe all over the vulva and clitoris. Given the strength of the vibration, these sex toys are fantastic when nuzzling and nudging you on to orgasm.
Since metal vibrators come in such smooth and elegant shapes, they make great candidates for anal penetration. Their hard surface means they can slide in and out more easily than some other types of vibrators such as textured or ribbed. We recommend having some kind of anal experience first before venturing into anal play with a metal vibe though.
Another great aspect of metal vibrators is how they transmit heat. Not only will the toy heat up and the internal motor rev you up, but if you slip it inside the vagina or anus, it will collect and retain that sexual heat as well. Go back and forth between the vagina and the clitoris, keeping the toy hot and steamy for hot and steamy good times!
How can I buy a metal vibrator?
If you want to experience the unique sensations of a metal vibrator for yourself, you're in luck - we sell them. You can browse and explore our full range of metal vibes here: Buy a Metal Vibrator.
Need more help?
Still not quite sure if a metal vibrator is right for you and need a little assistance? Don't fear, help is near! Please Contact Customer Care and a vibrator expert from the Cherry Banana team will be in touch as soon as possible.
You may also like these guides