Kinklab Red Neon Wand Electrosex Kit
Kinklab Red Neon Wand Electrosex Kit
Red Electrical Stimulation Kit - 5 Piece Set
Sorry, Out Of Stock
We're not sure when this will be stocked again.
How about these instead?
Discover more items you'll love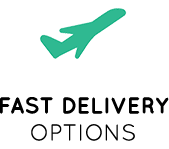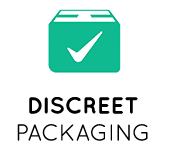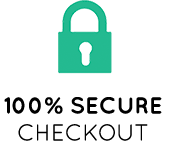 Product Description
Red Electrical Stimulation Kit - 5 Piece Set
The Red Handle Neon Wand is the latest version of Kinklab's innovative Neon Wand Electrosex Kit, a device which creates an electrical discharge across the surface of the skin. The electricity produces sensations over a broad range, from a pleasurably warm tingling, to a more intense, focused sensation that some find painful. The level of sensation created by the wand can be controlled both by a multi-level intensity dial on the wand itself, and also by which electrode you choose to use.

The Neon Wand kit comes with 4 different glass attachments (Electrode Comb, Mushroom Tube, Probe, Tongue Tube) that will be a thrill to experiment with. The kit colour refers to the colour of the light glowing in the glass electrodes. Kinklabs product development team drew on over 20 years of experience working with electric ray wands and fetish products to create their own wand kit that's a step above the rest.

What makes this product different:
The Neon Wand is a solid-state device with no moving parts inside, which makes it possible to move and change the angle of the Neon Wand without distracting interruptions or unexpected variations in the output. Solid-state often prove more durable over time as well.
Compact, lightweight handset: traditional electric ray handsets are heavy and bulky. The Neon Wand is light and easy to handle, allowing you to focus on your partner and your play.
Lower maximum settings: at its highest setting, the Neon Wand will produce an intense sensation, but it does not quite reach the sometimes painful levels that traditional electric ray wands can. This makes it the perfect choice for intermediate and advanced users who prefer using electric ray wands in a more sensual manner, while it is safer and more accessible for beginners.
Extra long power cord: 2.5m (8 foot) cord.
Additional Information
Power and speed
Intensity level: High
Noise level: Quiet
Controller type: Mains powered
Power source: Mains powered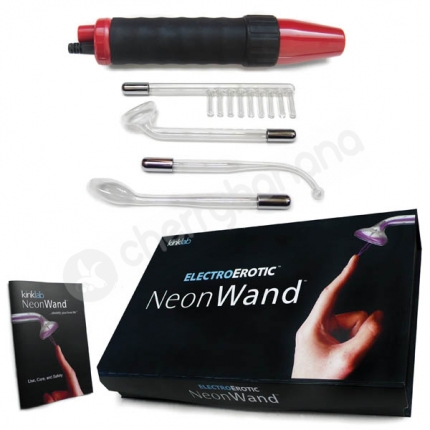 Kinklab Red Neon Wand Electrosex Kit
Red Electrical Stimulation Kit - 5 Piece Set
$249.99
Sort by:
Showing 1 review
Show:
Now this toy is fun! If you're new to a bit of the 50 shades life here is the toy for you. Starting on the lowest setting it's a minimal to mild tickle with the glass tube touching the skin. Now lift it up say 5mm and it changes to a little prickly feeling. Start on an area that is not sensitive, say the arms, then move to the fun bits. Note the smaller the contact point the greater the thrill.
Showing 1 to 1 of 1 review