Stud 100 Male Genital Desensitizer Spray 12g
Stud 100 Male Genital Desensitizer Spray 12g
Delay Spray for Men - 12g (0.4oz) Bottle
In Stock
Best Seller
$39.99
Or 4 payments of $10.00 with

Learn more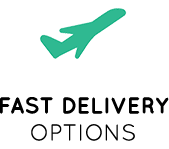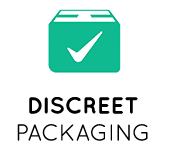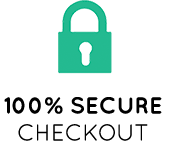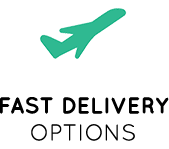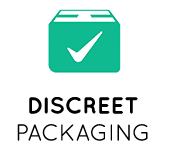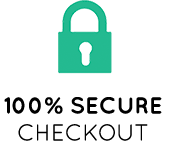 Product Description
Delay Spray for Men - 12g (0.4oz) Bottle
Enjoy longer lasting sex with this 12g (0.4oz) sized Stud 100 Male Genital Desensitizer Spray for Men. This genuine and top selling Stud 100 delay spray is designed to give staying power by slowing down the time it takes to reach climax. Enjoy sex more instead of worrying about it being over before it has begun. It's extremely easy to use and works quickly. All you need to do is apply a few sprays to the head and shaft of the penis and let it absorb. It is a mild anaesthetic, sprayed onto the penis 5 to 15 minutes before intercourse.
Stud 100 may help to reduce stress that can occur as a result of over-rapid ejaculation and has become a highly popular product in many areas of the world. Millions of cans of Stud 100 delay spray have been sold in over 60 countries. By prolonging the time to climax, men may find Stud 100 spray helps to increase their confidence by enabling them to satisfy their partner more fully. Stud 100 with Lidocaine is one of the most successful delay sprays for men. It comes in a discreet 3" (7.6cm) high can, fitted with a metered pump spray which contains 12g (0.43oz), giving approximately 120 sprays.
Stud 100 sex delay spray for men is non-toxic, odourless and ozone-friendly. The can is fitted with a distinctive child-resistant closure and metered pump and comes in a discreet size for use anywhere.
Active Ingredient: Lidocaine (9.6 percent).
Key Features:
Helps to stop premature ejaculation
Extend performance during sex
Longer lasting love making
Body safe and easy to use
Approximately 120 sprays per bottle
Great for men of all ages
Additional Information
Essential info
Product Code:

STUD100

Manufacturer: Stud 100
To be used by: Men
Type: Delay spray
Extra features: Longer sex, Easy to use, Desensitising
Flavour: Unflavoured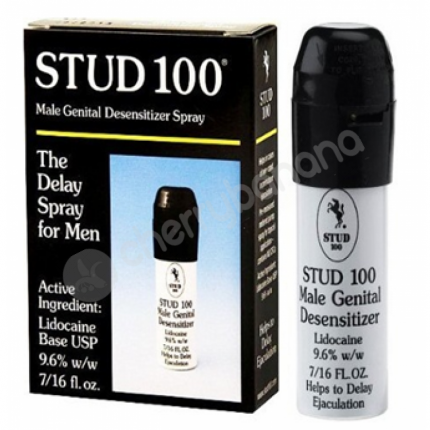 Stud 100 Male Genital Desensitizer Spray 12g
Delay Spray for Men - 12g (0.4oz) Bottle
$39.99
Sort by:
Showing 5 reviews
Show:
Fantastic product. Great service and quick postage.
Great product. It does work.
As a man who suffers from premature ejaculation to a fair degree, I was looking for something to cure it and remove the burden and pressure during sex. I've tried plenty of stuff in my time, including paid plans costing thousands of dollars, with a fair mixture of results. I always come back to the good old classics though, and the Stud 100 is the best classic of them all.

It's a product you can trust to work well in any situation. It comes with nearly 10% Lidocaine which helps to 'numb' the penis, removing the urge to orgasm quickly during sex. If you spray the right amount you can have full control of how and when you orgasm. Just don't spray too much or you might have trouble reaching orgasm at all.

To apply the Stud 100 is easy. I usually spray 2 onto the shaft of the penis and let it absorb into the skin, as well as one spray onto the head of the penis and massage it in. I wait around 10-15 minutes for it to absorb properly and then wash it off under the tap to remove the excess. Sometimes I might use a cloth or paper towel, depending what's close.

When it comes into effect you'll feel less sensation in the penis. Now, that's not to say you won't feel anything, you can still feel all the good stuff, it just doesn't feel as overwhelming. You won't have that sudden urge to orgasm as quickly.

If you're looking for an easy and affordable fix for premature ejaculation or just something to last a little longer, Stud 100 is a great product. It's easy for travel too and the case and lid is hard and solid so you can keep it in your pocket without too much drama.
This product helps me to have longer lasting sex and improve the intimacy with my partner. Few simple sprays is all it takes to make love like a god. Thanks Cherry Banana!
Stud 100 is definitely the best delay spray on the market. I have used many in my time, the Indian God also being a great one, but I think Stud 100 takes the cake. It seems to work faster, for longer and has more sprays per bottle.
Showing 1 to 5 of 5 reviews