Guide to Breast Masturbators
Ah, breasts. Where to start on the part of the body most universally adored. Well, we'd say you start right at the tip of a hot and luscious nipple and then work your way around, but let's not get too far down our personal rabbit hole! There is no denying that breasts are a significant turn on, particularly for all the men out there who love to get naked with women.
Because tits are so terrific, it should come as no surprise that fellas have been obsessed with enjoying them in every sexual way possible. Licking, touching, biting, caressing, and of course, sexing! The sensation of sliding your penis between her soft boobs is a great thrill. So it should come as no surprise that breast masturbators will make a great addition to your pleasure chest.
What are breast masturbators?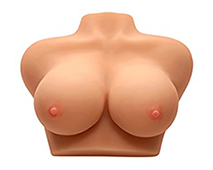 It is kinda funny that, arguably, the most lusted-after, sexualized and fetishized part of a woman's body isn't actually all that sexual in anatomical terms. Psychology and society place a lot of emphasis on them and many products aimed at men feature them prominently. You'll catch teen boys and old men (and many women as well) sneaking glances at them. It is just undeniable: breasts are a handful in our culture.
Titties, boobs, bazookas - call them what you will, but it cannot be underestimated the incomparable grip women's breasts have on our collective sexual minds. And it is true, beyond theories on attraction, breasts do not primarily play a function in our sex acts. But while that may be true, that doesn't mean we haven't discovered many different ways to incorporate sexy boobs into our fun.
So, as with many other things in the sexual realm, breast enthusiasts everywhere will be delighted to check out our great selection of breast masturbators! Whether you're looking for a masturbation toy with significant size or small and sexy, there are many different sizes, types, shapes and styles of breast masturbators available. You'll surely find the busty babe of your dreams because breast masturbators also come in different skin tones and some even feature vibration. We're talking a whole new type of motorboatin'!
Are they great for breast lovers?
The emphasis on breasts in sexual play is so overwhelming they are often a main fantasy of some men. Being able to touch, lick, squeeze and hold a woman's breast can be an ultimate fantasy or even a fetish. Some guys really need titties! And this is where breast masturbators are a perfect companion to your masturbatory fun. These toys often feature a full torso of a woman (with other parts) so you can enjoy many different sensations while continually focusing on the breasts. Without a doubt, breast masturbators are one of the most unique sex toys out there that will surely please the most die-hard breast fetishist.
What are breast masturbators made from?
If you want to enjoy the experience of breast play with a toy, that toy better feel amazing. And trust us, they really do! Breast masturbators are usually made from the highest-quality Cyberskin - a material so soft and sensual you will be forgiven if you mistake it for the real thing! When you get your hands, lips, cock and more on a fantastic breast masturbator, you will discover just how great they feel. The breasts are firm, but sensitive. The nipples are nice and perky. You can only get this sensation from quality materials.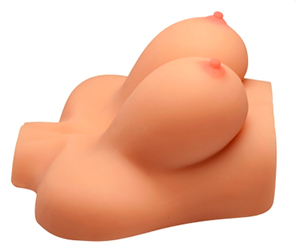 How can I use a breast masturbator?
The only thing that will limit your enjoyment of breast masturbators will be a lack of imagination. You can fulfill every fantasy and sexy thought you've ever had about breast play with your new breast masturbator. Whether you just want something simple like holding a sexy boob while jerking off or a full-on experience like a hardcore hot dogging, the options for pleasure are limitless.
One thing to remember about what you do with your breast masturbator is that you should have a bottle of your favourite water-based lubricant on hand. And yes, it has to be water-based. Other lubes, such as silicone, could leave a sticky film on your toy, making it tacky to the touch. Or worse, it might actually damage those luscious globes. And we don't want that!
Lube is particularly important if titty sex is on your sexy agenda. It feels amazing to slide your cock in and out of your breast masturbator's hot rack, but doing it for too long without lube can lead to uncomfortable chafing. Just coat your toy and your dick in lube and get busy in titty town!
How do I care for my breast masturbator?
Breast masturbators need the same care as other Cyberskin sex toys. Once you've finished up with those fabulous fun bags, be sure to wash the toy - inside and out - with warm, soapy water or a sex toy cleaner. You should also try to dry it off as best possible with a clean, lint-free towel and then left out to air dry the spots you couldn't get into. Once you're done cleaning up, wrap the beautiful breasts in another lint-free towel for storage.
How can I buy a breast masturbator?
Would you like to buy your own breast masturbator to take your masturbating pleasure to new and exciting heights? If you would like to browse our range, just head on over to our category: Buy Breast Masturbators.
Need more help?
Not quite sure if a breast masturbator is right for you and need a little more help? Just Contact Customer Care and a staff member from the Cherry Banana team will be in touch right away to assist you. Alternatively, you can explore our other sex toy guides here.
You may also like these guides