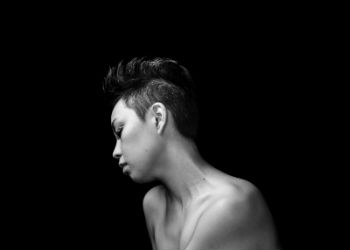 When it comes to our bodies, they really are a vast and wonderful playground. So much sexy, so little time. Instead of taking a few extra moments to enjoy some of our more underappreciated bits and pieces, we tend to go full steam ahead to a select few anatomical landmarks...when, perhaps, we should be doing a little more sightseeing.
Don't get me wrong! When it comes to sexytime, nobody will blame you if your mind goes directly to the genital region. Penis, vulva and vagina are are quite, umm, satisfying to play with. So are the tangentially sexual breasts and ass. They feel good when receiving and they feel good to play with and are, for many people, the seat of sexual pleasure.
However, there are other hot spots that make fantastic starting point for foreplay, and can also be incorporated to full-on sex. And one that deserves far more attention than it currently gets is the neck.
What are the best ways to tantalize your lover's neck?
Kissing
Our necks are extremely sensitive and can add so much to both foreplay and sex. Remember back now, what was one of your first sexual experiences? Kissing probably came first followed shortly after by kisses on the neck. So erotic and sensual! The neck might be so sensitive as a natural defense mechanism to protect against injury to such a vulnerable part. I really don't know! But, I do know that our necks are very receptive to tongues and lips and gentle touches. It used to be far more common men would come up from behind their partners, brush her hair aside, and bring his lips to her skin. Sometimes his lips didn't even need to make a great connection. Just a light breath on the neck can cause delightful shivers through a body.
Hickeys
Okay, hickeys get a bad rap. Yes, sucking on a person's neck until you leave a big burst of bruise under their skin is something usually reserved for teenagers. Did everybody experience the silliness of having to try and hide a hickey under a turtleneck sweater or scarf? Really, there is no need for shame, it is just fun, sexy play. But it is drilled into us that hickeys are just for kids. Well, they don't have to be! Sure, you probably don't want to be walking into your office the next day with a big blotch, but if you have a few days before having to see other folks, have some fun with your lover and dish out and take some love bites! Vary the strength of your suck for unique results.
Collars
If you are into BDSM, you probably already know how great a collar can feel (physically and emotionally). Collars are given to submissives to mark that they are the Dominant's "possession." This gives the submissive great satisfaction and can trigger sexy thoughts whenever they wear, or even touch, the collar on their neck. For those who aren't into BDSM but like sexy clothes, a collar that is just tight enough can feel great during sex. It can be used to guide and hold someone. It can also be used, with extreme caution, to sexually choke someone. Remember, this is a very specialized skill and should only be attempted with full consent and care.