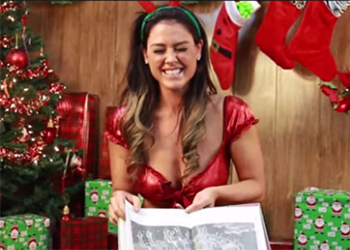 'Tis the season of good times and good cheer. Is there any better way to ensure there's a smile on your face at all times throughout the holiday season than by putting an awesome vibrator under the tree?
Having a versatile array of vibrators in your pleasure chest can bring you many different kinds of sexual satisfaction. Vibes have moved past the simple buzzing stick of days past and now offer many different type of stimulation. Check out these awesome toys that make great gifts during the holiday season and all year round.
For years, the go to setting for buzzzz. Most vibration toys were built on the basis of a motor that emits a high frequency pleasure wave. And hey, it is not as if that formula wasn't pretty rock solid and you can't argue with its success. However, sex toys were ready for a little invention, not just innovation. And the release of suction-based clitoral stimulators, such as the Satisfyer line of products, have revolutionized vibration toys. For an entirely new sexual sensation, try this impossible to describe toy.
Now, it is always great to try something new. But that doesn't mean we're getting rid of the tried and true classics. Sometimes exactly what you need is exactly what you've used for years. The QC Easy Vibe's icon design tells you that it is a dependable toy that will fulfill you. There's a reason this vibrator's shape and functions are well-known, even in the mainstream: it gets the job done.
Looking to make your vibration sensation a shared experience? For those who enjoy some penis-in-vagina action, take that sexytime and kick it up a notch! Duo vibes spread strong vibrations to different parts of the body. One part of the toy stimulates the clitoris, the other end is inserted and can reach the G-spot. And that portion also brings vibration pleasure to the thrusting penis. Seems like we've got a win-win-win situation with this partner-centric offering!
One of the more significant sex toy design revolutions was when the first rabbit vibrators came hopping into view. They revealed the desire of many to have clitoral stimulation coupled with an insertable element—all in one toy. Products like the Ultrazone Tease took off. Not only does it have strong vibration in the clitoral nub, but it has a very appeal shape and length to both reach the G-spot and provide that deep, full feeling.
You can never go wrong with, arguably, the most simple sex toy around: the bullet vibrator. The Neon Luv Touch offering is everything a bullet vibrator should be, small, strong and easy to use. With simple clicks of a button, you can ride wave after wave of pure vibration bliss—and then drop the toy into your pocket when you're done. Since bullet vibes became so popular, they are being incorporated into other products, such as dildos and strap-ons. Keeping a bullet vibrator in your purse, knapsack or pocket means you're always, discreetly ready for fun.