Spanking is one of the most polarising sexual activities—yet it is also one of the most popular. Spanking regularly ranks as one of the top sexual activities people fantasise about and is surely one of the most popular kinks out there. One of the great things about spanking is that it is completely egalitarian. Anybody or any gender expression can enjoy being spanked by anybody else of any other gender expression. All you need is a hand (or hands) and ass or things and you have a spanking great time ready to happen.
Before you dive right in, there are certain aspects of spanking that should be considered—both physical and psychological. Check out these tips to making your spanking sessions a red-handed great time.
Communication
The key to a great spanking session is not how you hit, how hard you hit or how read you make your partner's ass. None of that will matter if either of you come away with unpleasant feelings or if there is a miscommunication. That is why talking to each other, both partners participating is of key importance to a great spanking session. Both people need to be willing to share and give feedback, to ask for what they need and offer ideas. Both people need to be active listeners and need to ask questions about what they'd like to happen, what is happening, and what might happen next. If you're not ready for this kind of openness, you might want to reconsider this sexual activity because, frankly, somebody might really get hurt.
Where to Spank?
This may seem an odd consideration for an article about spanking, but where you spank someone is very important, not just for enjoyment but also for their safety. Obviously, they main body part we associate with spanking is the buttocks and upper thighs. And damn, they work really well for this type of pleasure. Soft and meaty and hearty, the butt and thighs are the perfect spots for impact play as it can absorb a fair amount of punishment without sustaining damage.
However, in the heat of the moment, it is very easy to miss the mark. A stray spank could land anywhere, depending on how you are playing. You might end up smacking someone's lower back, hips, anus or genitals. Depending on your partner's preferences for pain, any of those might hurt in the bad way!
While it may be tempting and very desirable, it is best, at least in your first few attempts, to participate in very controlled, deliberate spanking. Both you and your partner can get a clear understanding of how and where the strikes should land. Maybe thighs are better, maybe spanning over two cheeks. Maybe one, single red hand on an ass cheek is enough. After both of you have gained some experience, you can move on to spanking during other sexual activities.
How Hard to Spank?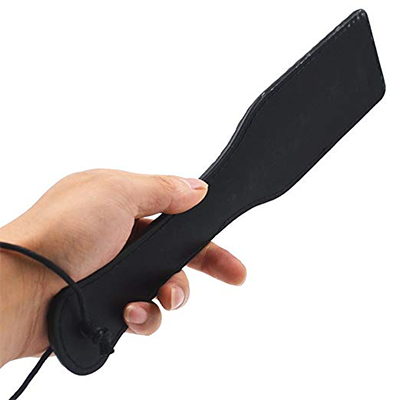 In much the same consideration of spank placement, spank strength is another factor that is best tested over time, in deliberate and controlled spanking sessions.
Everybody has different pain tolerances. We never truly know how much we can take until we try it. Spanking is no different and and is a completely different experience of pain than other instances we encounter on a daily basis. When you stick to the buttocks and thighs, sure, that pain is more dull and it tends to heal and subside more quickly. This is why this area is recommended for impact play.
However, most people have a fine line between good pain and bad pain and it is wise to find this line in advance of incorporating spanking into other sexual activities. It is a very real possibility that the spanker, if also engaged in action that brings them pleasure, might lose a bit of control and end up striking their partner too hard. While accidental, this could bring a fun time to a grinding halt very quickly. So it is best to practice pain tolerance and preference in advice. Honestly, isn't this the best kind of practice ever?
Aftercare
Never underestimate the need for aftercare. Simply put, spanking (and other forms of BDSM) can take a lot of out participants, particular those who are on the bottom and receiving—both physically and emotionally. When your session ends, depending on the mood and feelings, be ready to take care of each other. This could include a gentle massage or cuddling. Check in with your partner to see what they need to feel better. If you are feeling some kind of come down at the end of a session, communicate that to your partner. Because so much adrenaline is released have some chocolate on hand. It contains oxytocin and will replenish their body.
Who'd have thought we'd have so much fun with something so many kids fear?