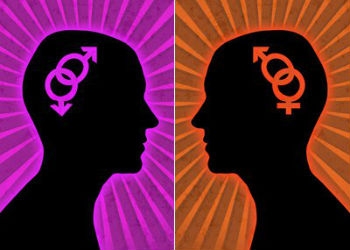 There is absolutely something universal in our sexual experiences, but has been rarely discussed over the last bunch of centuries. It wasn't always the case, but our newfound and growing comfort with discussing sexual orientation is a welcome change to many years of indoctrination that demanded there was heterosexual and... those who were damned.
Of course, if you look through history from around the world, you will see that heterosexuality has never been the only recognized option. Some cultures were blatantly accepting of same sex and bisexual people, such as the ancient Greeks. Many cultures have also accepted and understood asexuality. Unfortunately, some dominant religions came along in the middle part of the last millennium and spoiled the sexual party. And that lead to many dark years for many folks.
Fortunately, we are starting to emerge from those hard times. Sure, some areas and doctrines still wield significant power and many folks are still denied free expression of their sexuality. But let's give a cheer for some progress!
Kinsey Scale
And because of that progress, we can now further explore the wide spectrum of sexual desire. The famous Kinsey scale is the most frequently used benchmark of determining sexual orientation. It has been adapted to reflect some current changes in orientation identity. Here's the scale:
0- Strictly heterosexual
1- Heterosexual and incidentally homosexual
2- Heterosexual and more than incidentally homosexual
3- Bisexual
4- Homosexual and more than incidentally heterosexual
5- Homosexual and incidentally heterosexual
6- Strictly homosexual
X- Asexual
There are two ways to look at the scale: some numbers, such as 0, 2, 3, 4 and 6 relate to your action. That means if you choose one of those numbers, that means you have participated in sexual activity with the people it notes. Pick a zero and you're saying you've only ever had sexual contact with people of the same sex as you. Pick 2 or 4 and that means you've had some sexytime experience.
On the other hand, if you pick 1 and 5, that related specifically to fantasy. You haven't ever had any actual physical sexual relations with the specific people mentioned in those choices, but you have definitely thought about it! Maybe you fantasize, maybe you watch specific porn. You are intrigued by the possibilities, but it is possible you never actually act on that desire.
Of course, whether you were aware of it or not, these different orientations have always had a significant impact on your dating and relationships. Not many people can come out as anything except heterosexual in their younger days because of societal pressure, but they may be thinking those thoughts even as they navigate relationships with the opposite gender. This is another great thing about our changing acceptance of sexual orientation—people can be their authentic selves.
One last note: it is important that we are now recognizing asexuality. It is a distinct orientation that can be difficult for folks to manage in dating and relationships. If you are unsure what asexuality means, you can read more about it here.