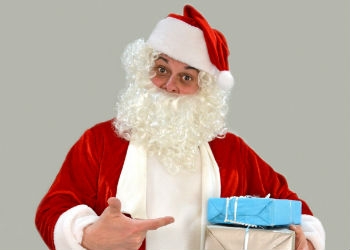 Sex is good for us. Really! I'm serious! Some might think a statement like that is just some kind of come on or justification. But it is true, sex can be beneficial to our health. Unfortunately, we cannot claim that sex can cure disease, but, on a base level, sex can greatly reduce stress that manifests in headaches, sore muscles, menstrual discomfort and other pains. The release of oxytocin during heightened periods of sexual activity and arousal floods the body with feel good sensations.
The thing is, when you're not feeling great, how do you get aroused? Working around that issue can be tricky. Fortunately, some sexual activities are beneficial just by their nature. Just in time for the holidays, discover many sexy products and toys that can help make your sexytimes enjoyable and healthful.
Massage products
Massage has long been known to be a positive activity for our bodies many different cultures have practiced the art of massage all around the world. In the most simple sense, a deep massage relaxes the muscles and tissues and provides tremendous relief from stress. Those are the direct physical benefits. At the same time, when a massage, literally, pulls and pushes the stress out of your body, your heart rate lowers, reducing stress all over the body. Your favourite massage oils and creams will make the experience a sensual delight.
Condoms
This one is pretty self-explanatory. There have been great advances in treatment of sexually transmitted infections—that's good! But we're also living in an age of superbugs—infections that are becoming resistant to previous treatment—not good at all. One step forward, two steps back. To date, the most effective methods of reducing the spread of STIs remains barrier methods, notably condoms. Fortunately, condom technology is continually updating and advancing, making condoms more comfortable and durable.
Prostate stimulators
Research and understanding of the prostate is still young, despite the fact that we know that prostate cancer is a leading cause of death among men. So, yes, prostate stimulation and milking are both highly pleasurable, however, there is not yet any conclusive evidence that these activities definitely reduce chances of developing prostate cancer. But as more research takes place, it is becoming more understood that prostate stimulation and the release of seminal fluid that is built up in the prostate probably benefits the person. That fluid can become infected. To get that goo out, use a finger or prostate wand or stimulator. Really, you can't go wrong trying.
E-stim or TENS units
Here's an item that was not developed for sex, but has been adopted as a wonderfully sexy addition to our bedroom. E-stim machines, or TENS units emit a current through electrodes adhered to the skin, that pulse carries through to our muscles and acts like a massage on steroids. The electro-massage stimulates and relaxes the muscles at the same time. Users can adjust the settings for strength and frequency. Thinking about it, it is no surprise people discovered it can be used on other body parts!