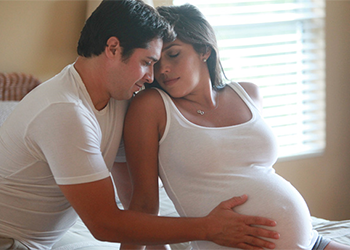 There is absolutely no reason to be afraid of having sex while you or your partner is pregnant. Seriously you will have plenty to be afraid of after the child comes into the world! Unless your doctor has advised you otherwise (this can happen), you can continue to have sex throughout your pregnancy, with there being no risk to mother or baby.
Now, that doesn't mean that having sex throughout pregnancy is necessarily the easiest thing in the world. Your body is very different and you need to make some accommodations to make that work. And, of course, your partner needs to both change how he touches you and how his body makes contact with you. These are just some small adjustments to make to ensure your pregnant sex is as hot as it was before and will be after.
While it is important to adjust the physical actions, it is also important to remember that pregnant women can suffer from self esteem concerns related to their changing body. Extra love, attention and care are important to reinforce just how amazing and sexy she is.
Check out these pregnant sexytime positions:
Different furniture
We all rely so much on the our beds for sexytime fun. Of course, there are significant benefits to beds—spreading out, soft sheets and a comfortable mattress. However, it isn't always the best place for sex for pregnant women. The flat surface can be a little awkward to navigate. Instead, look around the rest of your house for different furniture to have sexytime fun on. Couches are ideal for pregnant women to have sex on—but not on their backs. Instead, try having her kneel on the couch facing the back. She can then brace herself against the back of the couch. He can then perform oral sex or penetrate her, while at the same time rubbing her back!
Spooning
Not only is spooning one of the most intimate and loving sexual positions, but it can be one of the most sensual and thrilling sexual positions during pregnancy. So much of her body is available for touching, caressing and massaging, and this can make a tremendous difference in comfort and care. But that is just one of the benefits of spooning sexiness. Laying on her side can be very comfortable and relaxing, particularly in the later months of pregnancy. Adding pillows and blankets under her body can also help take pressures off.
Her on Top
The easiest position for her to both enjoy significant pleasure, as well as the most comfort is by having her on top. For many women, being on top is one of best sex positions there is regardless, but it can also take a significant amount of pressure off her body during sexytimes. She can position herself comfortably on her knees and then also rest her hands on the bed or even on his chest. She can control the depth and speed of penetration and either of them can touch and stimulate her breasts, belly, clitoris and more.